Zarlasht Sarmast an award winning documentary filmmaker and recent graduate from the American University of Central Asia, Department of International and Comparative Politics. She has previously served as the Spokesperson for the International Committee of the Red Cross in Kabul, Communications specialist for GIZ in Central Asia, Voice of America in DC, and many other well-known national and international organizations. Zarlasht is currently working for the Open Society University Network working as a Program Coordinator for the Global Engagement Fellows program. She is the Director and CEO of the project "Afghanistan Politics on the Verge of Transformation". Zarlasht recently finished her first MA in the department of International Relations and Security at the OSCE academy in Bishkek and  is currently doing her second  Masters Degree in the field of applied psychology at the American University of Central Asia. 
I don't really remember much about how it all started. It was chaotic. Chaotic because I am from Afghanistan. My family was there at that time. When the provinces were falling one after the other. When Kabul fell. I remember exactly a night before Kabul fell. I had a phone call with the head of Crisis Rescue Unit (CRU) Mr. Stanikzai. I knew him because when I was in Kabul, my sister and I were doing the research for a documentary on CRU for Netflix. They were well aware of the situation, the deals and everything that was happening. It was early in the morning, I couldn't breath, I didn't sleep that night. I went outside for a walk and to get a coffee, I called Mr. Stanikzai and asked "Stanikzai sahib, senga ye? Halat Senga da, Hamkaran sha de?" He told me it's all gonna be over tomorrow, we talked for about an hour. His voice was very heavy, as if he was controlling himself to not cry. I couldn't stand anymore after the call was over. I sat down on a bench. I went to Instagram and my sister posted a photo of the Afghanistan National Army, a group of them walking away from the battle-field without their guns, their guns were in the hands of the Taliban. Somehow, I was still able to hold it all in. I was very numb. I remember, even during those days, I had a feeling thinking Kabul will not fall, everything will be okay and I can go back soon and see my family. I would Zoom with my family every night and speak with them. That night when the Taliban arrived at the entrances of Kabul, I saw the news. I made a zoom like every day and sent it to my sister so they could get online and we could talk, they got online and we started our daily "Family time". We usually started that by taking a few deep breaths and we all started talking about our days because we have been living in different countries for work and education. That night, when we started to take deep breaths, on the second breath, everyone burst out in tears. The feeling of "everything will be fine" was gone in all of us. I think that is what was going on in every house in Afghanistan that night. The next day Ashraf Ghani fled the country along with his assistants and other close allies and left the country into the hands of Taliban. The country turned into a total mess, the situation at the airport was the same as what happened in the last days of the Vietnam War. The pictures and videos were just like the scenes in Saigon and maybe even worse than that. By August 30th, all forces of the United States Government as well as other countries' military forces were out of Afghanistan and Taliban took complete power and freed all their prisoners right away.  
Dr. Jonathan Becker was the one who first proposed the idea of doing something and doing it immediately. I remember before the whole country fell I was added on a Zoom call on Google Calendar. The call was with the AUCA president Dr. Jonathan Becker, development office at AUCA, International Students office, Finance office and a few others. During the call the discussion was about getting the AUCA students and AUAF students out of Afghanistan as soon as possible. I was so hopeless those days that I honestly didn't believe we would be able to do anything for anyone. The mission got harder and harder as we moved forward. First Kabul fell, then the airport closed, then the overland borders closed and this list of things that put our mission next to impossible  goes on. For me, it is not possible to find a word to describe my experience being a part of the evacuation team and the work that we did. It was especially hard for me to be part of such a great team. I was working on my MA thesis, managing a full time job and working on a few civic engagement projects of my own and students while my family was in Kabul. Before the Taliban took power, my mother worked as an engineer at the National Radio and Television of Afghanistan, my younger sister who was based in Singapore and studying at Yale-NUS college went to Afghanistan over the summer to work on a project at Zawia Media, which was also part of the Presidential Palace's communications office, she was working as a researcher and project manager, my younger brother was working in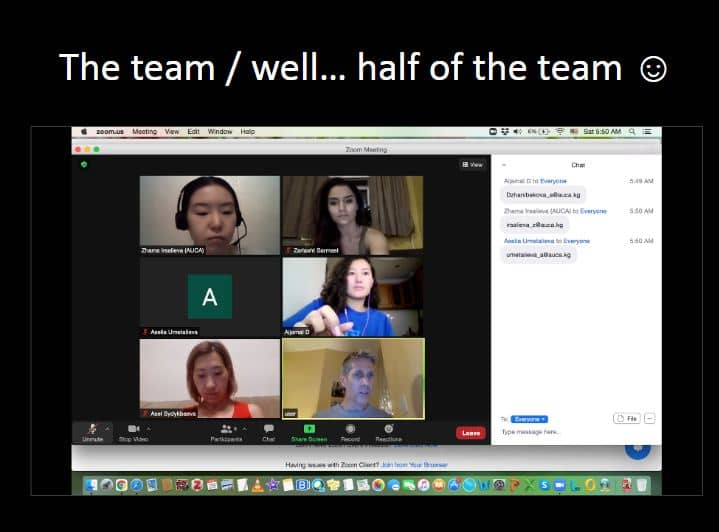 During the first two months, we couldn't make any progress. Nothing seemed to work. When we had our first meeting, not all the provinces in Afghanistan were under Taliban Control. The Kabul Airport was still functioning normally and there weren't any issues in getting out of Afghanistan. However, A few days after we had that first meeting for evacuation of the Afghan students, Afghanistan entirely collapsed and the Taliban Took over. Getting to the airport was almost impossible but even then, we tried to see if we could evacuate students by plane and not overland because of the dangers. It didn't work because there were many attacks around and in the airport. Later we decided to evacuate students overland. First to Pakistan and then to Bishkek. That's when the Kyrgyz government banned visas for Afghans. Luckily after some negotiations, they granted visas for the students and the process started. We formed our team, counted the hours and shifts and the evacuation began. Being a part of this team was just an amazing experience. It has been the hardest thing I have done in my life. I remember nights where we would just pass out and couldn't continue to stay awake. It was tough because we had a very big group of students to evacuate and they were all scheduled to go: 10 -15 students at a time because of the security dangers on the way. 
It was important for me to accept all the challenges and be part of the team. I am from Afghanistan and the people being evacuated, I knew most of them. They were my former classmates, friends and family. It became even more important when I saw the commitment of my American and Kyrgyz colleagues towards Afghan students. They inspired me a lot. 
There was one group of students which faced a lot of challenges on the way to the border and in the border too. The border was closed on one of the evacuation nights and Taliban in the border were not allowing anyone to cross. Our students waited there for more than 13 hours even though they had gatepasses. They were not allowed to cross the border and this group was I think around 15 students. My colleagues and I were receiving calls every minute from almost all of the students. We were frustrated and tired. I remember I got a call from one of the students saying the Taliban had started whipping and beating the students and others at the border. They sent me some photos and videos. I couldn't watch it. I just deleted the photos and videos on the spot and put my phone away and got out of my apartment. I sat in a small park in front of the block I live in and cried for two hours. I wanted to run and scream and leave everything behind… I sat there for a few more minutes and calmed myself and then came back to my apartment and started working. Our students in that group couldn't cross the border that day. They all went back to their homes hopeless. Some of them had come to Kabul from provinces. That was the moment I was feeling very down and out of energy. 
The happiest moments were when the first group of our students crossed the border and made it to Pakistan. We thought "We did it and we can get all the students out now". The second happiest moment was when the first group of students arrived in Bishkek and were picked up at the airport by our colleagues from the International Students Office. 
Now that our students have made it out of the country, we need to make sure we can help them in the next steps as well. There is no way they should go back to Afghanistan. At least not now. There is a lot of need for finding funding resources and making sure the stu;dents are getting the support they need in securing further fully funded academic programs or finding jobs. 
If I could describe my experience throughout the evacuation process in one sentence I would say it was a very long, scary, exhausting yet exciting roller coaster ride. 
At the end, I want to dedicate a poem by Mario Benedetti to all the people who made this mission possible and Thank them for being the kind of people that I like: 
The people I Like
I like the people who vibrate.
The people who you don't have to push and tell them what to do.
 They know what needs to be done and do it.
The people who cultivate their dreams until those dreams take on their own reality.
I like the people who have the capacity to measure the consequences of their actions.
The people that risk the certain for the uncertain when chasing a dream.Who allow themselves to get away form sound advice leaving the solutions in the hands of God.
I like the people who are just with their peers and themselves.
The people who are thankful for every new day and for the good things that exist in their lives, who live every hour with a good spirit, giving the best of themselves, thankful for being alive, for being able to give away smiles and to offer a helping hand without expecting anything in return.
I like the people who have the capacity to criticize me, constructively and to my face, but without hurting or wounding me. The people who are tactful. I like the people who posses a sense of justice. It is they who I call my friends.
I like the people who know the importance of joy and practice it.
The people who through joking teach us to live life with humor. The people who in this sense, never stop being child-like.
I like the people whose energy is contagious. I like the people who are frank and sincere, capable of opposing the decisions of anyone with reasonable argumentation.
I like the people who are faithful and persistent, who don't give up when it comes to reaching objectives and ideas.
I like the people with criteria, who aren't ashamed of admitting when they are wrong or when there is something they don't know. The people who, after acknowledging their mistakes, genuinely strive to not make them again.
The people who fight against adversities.
I like the people who look for solutions.
I like the people who think and meditate internally.
The people who value their peers not because of a social stereotype or how they look. The people who don't judge or allow others to judge them.
I like the people who have personality.
I like the people capable of understanding that the biggest mistake a human being can make, is to try to take away from his mind that which won't leave his heart.
Sensitivity, courage, solidarity, kindness, respect, tranquility, values, joy, humility, faith, tact, confidence, hope, appreciation, wisdom, dreams, regrets, self love and love for others are all fundamental in order to be called PEOPLE.
I am committed for the rest of my life, for anything, with people like these. Just for having them with me I'm well remunerated.